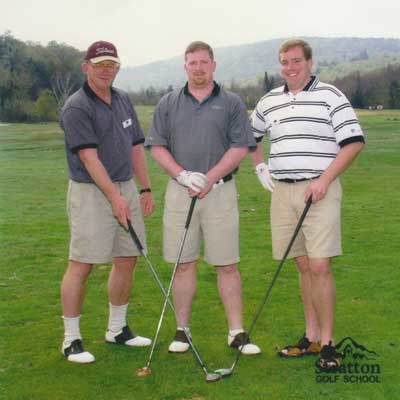 John Schroeder (center), in May 2001 with his Dad, Jack, and brother, Matt.
John Schroeder was a Nasdaq stock trader with Fred Alger Management who died at the age of 31 in the tragic attacks of September 11, 2001. In his honor, John's family established The John T Schroeder Memorial Foundation, www.jtsfoundation.org, to be a source of hope, optimism and prosperity in the community. Through the good will and generosity of its members, the foundation's vision is to make a difference in the lives of those in need. They are committed to creating new opportunities for hope and prosperity in the areas of education and community development with a focus on the greater NYC area.

In 2014, a second fund was created, the JTS Memorial Fund, through ECCF to benefit programs and projects in the New England area and primarily Essex County.

Recent grants include:
$25,000 to Danvers High School Music Lab
$18,000 to support the completion of the Highlands School Walking Path (2015 Construction)
$5,000 to support Mural Project at Riverside School (2015/16 school year)
$1,000 to Danvers Y Teen Programs




"John was the nicest, most generous and funniest guy you could meet. We will never forget the events of 9/11 or the family and friends that were lost on that day. In honor of all that were lost I greatly appreciate your support and look forward to bringing many more smiles to people in need." - John's brother, Matt Schroeder

The JTS Memorial Fund is a fund of Essex County Community Foundation. For questions regarding your online donation, please contact Michelle at m.pelletier@eccf.org or 978-777-8876. Thank you!