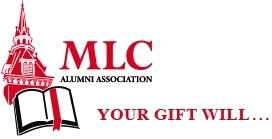 Help endow a $30,000 MLCAA scholarship.
Celebrate the 25th anniversary of MLC with the gift of a statue of Christ calling us to follow him and "fish for people."
Inspire and encourage prospective students, MLC students & faculty, and alumni in the public ministry.
Any support is greatly appreciated. In an effort to maximize the efficiency and effectiveness of its resources, the MLCAA urges its members to consider recurring gifts (preferably via ACH withdrawal from a checking or savings account). This method is the least expensive to process, assists alumni volunteers in budget planning, and permits the highest percentage of your gift to go toward its intended purpose.
MLCAA is a registered non-profit. All or part of your gift may be deductible as a charitable contribution. If you have any questions regarding your online donation, please contact us directly at (507) 354-8221 x 387 or e-mail us at alumni@mlc-wels.edu.