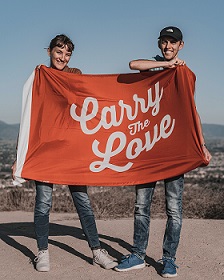 Anna and Asbjørn Vistisen
We are full time missionaries with Circuit Riders.
The vision of CR is to see college and high school campuses saved with an approach to:

Save the lost. Revive the saved. Train them all.

Practically this looks like trainings in the fall, which move into the Carry the Love tour each spring, where we hit the road to carry the gospel right to the ones who need it most. We serve on the messenger track, which is focused on communicating the good news of Jesus through sermons and one on one interactions.

We did our half year CRX training program from 2019-2020. We are excited to join full time on staff and partner with their vision for revival. Anna is from Maui Hawaii, and Asbjørn is from Denmark.

For now our base will be in Huntington Beach, California, and we feel called to go to Scandinavia with the gospel at some time in the future.