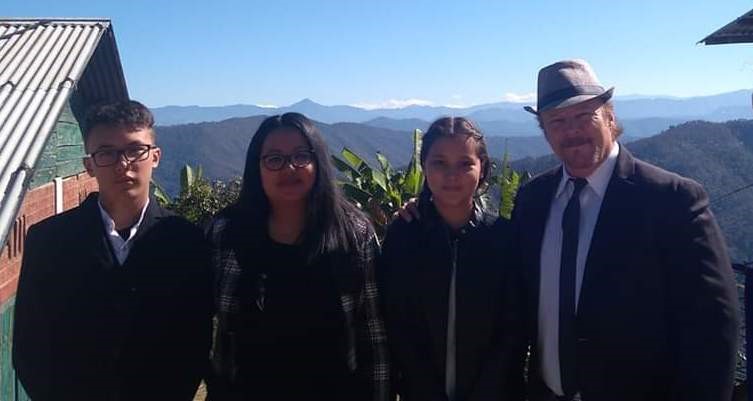 Bryan is married to an Asian lady, and has 2 teenage kids, and has been living and working together with a national Team of local leaders in the Himalayas for many years. Their ministry is faith-based, and all are welcome to partner with them in prayer & financially to see God's call fulfilled! Bryan, Family & Team have an International and National spiritual covering and financial accountability.
Bryan is a Pioneer, sent & commissioned by God, through the church, 30 years ago, to:
- Reach the unreached with the Gospel in South Asia.
- Lead them to the Lord, make disciples, and plant churches among them
- Teach, Train, Mentor and Equip local indigenous leaders for the ministry
- Create ministry teams under national & local spiritual covering
- Support indigenous leaders (33 presently) till they are self-supported locally
- Send them out as witnesses to be fruitful and multiply
- Usher in God's presence & communicate the Gospel through music CDs, radio & internet

Their present ongoing ministry consists of:
- Oversees 70 church plants & many leaders in the Himalayan region (since 1995)
- Started & overseeing a Pre-school for the poor, as an outreach ministry (Since 2008)
- Oversees 2 sewing Centers for ladies, also as a social outreach (Since 2001 & 2011)
- Founded & presently directing a Ministry/Music Training Center (since 2015) A 5 week Intensive Course (25 Bible subjects, Music theory , Keyboard & Guitar, Song writing & composition, including practical experience through outreach
Already 440 trained & equipped from 5 countries in Asia.
- Writing, composing, recording, and broadcasting Worship & Gospel songs in various languages, to help people experience God's presence & hear the Good News, and training others to do the same.

If you would like to contact him for more info, you can drop him an email at himharhorizons@gmail.com.
To check out their Worship/Gospel music, plz write to him for the YouTube page & links.
English - Sojourner | Hindi- Tera Hi Liye | Nepalese - Mahima Ko Chhaaya

Blessings multiplied!!