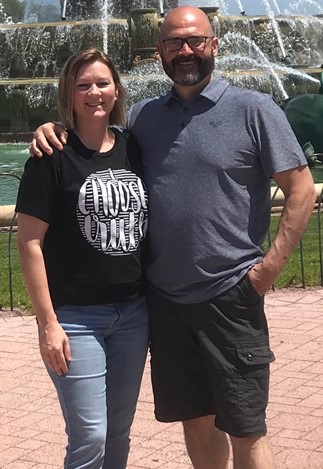 Joe & Tami Mann
Speak up for those who cannot speak for themselves; ensure justice for those being crushed. Yes, speak up for the poor and helpless, and see that they get justice. (Proverbs 31:8-9 NLT)
We are Joe and Tami Mann and we are currently taking the steps to follow the Lord's call to serve alongside Destiny Rescue in Asia to help rescue and restore children who are being exploited and trafficked.
As full-time volunteers in Asia with Destiny Rescue, we are responsible to raise all of our living expenses. So for us to take this step and move to Asia we need ministry partners, people who have a passion to stop the exploitation, trafficking and sexual abuse of children. Romans 10:14 says... "How shall they go unless they are sent?" We need sending partners who are led to pray and who are called to give. We need both one time gifts that will help us make the move to Asia and set up lodging, and we need people who are led to commit to giving on a monthly basis for the two years we are committing to go. As we partner together in this ministry we are "co-workers in Christ".
How we got to this point in our journey:

Nine years ago, Tami was first exposed to the issue of human trafficking in the world. She began to become more informed and she developed a burden to the point where she knew she had to seek to make a difference. She began volunteering with Destiny Rescue in their office in Indiana. Her volunteering became a full-time job serving with Destiny Rescue in the administration office. She has worked with Destiny Rescue for over 4 years now.
We moved to the South Bend area to help plant a church. Joe was pastoring the church plant and began helping Tami as she served and volunteered with Destiny Rescue. Initially, Joe thought the topic of human trafficking was Tami's call, yet after Joe heard Tony Kirwan, the founder of Destiny Rescue, speak in 2015, he was deeply impacted and challenged. We began sensing that God was leading us to eventually move overseas to join the efforts to see an end the exploitation of children who are being trafficked.
In spring 2017, we took a team trip to Cambodia and Thailand to observe firsthand the work of Destiny Rescue there. During this trip a series of circumstances brought further confirmation that God was indeed calling us to eventually move to Asia to serve on the front lines with Destiny Rescue.
Destiny Rescue is an internationally-recognized, Christian non-profit organization dedicated to rescuing children trapped in the sex trade. Their vision is to rescue the sexually exploited and enslaved, restore the abused, protect the vulnerable, empower the poor, and be a voice for those who can't speak up for themselves.
Our current financial needs:

$10,000.00 - one time set up costs
$3,500.00 per month commitments
Given the sensitivity of our future roles with Destiny Rescue, we are limited in the description of the locations where we will be serving since they are "restricted countries"
If you are interested in learning more, please contact us at: joetamimann@gmail.com.
In Christ, Joe and Tami Mann
Destiny Rescue exists to Rescue, Restore, Protect, Empower, and be a Voice for the Voiceless. Our vision is to see the sexual exploitation and trafficking of children end in our lifetime.
Follow Links to Learn More: https://youtu.be/GadJe_ztpus | www.destinyrescue.org