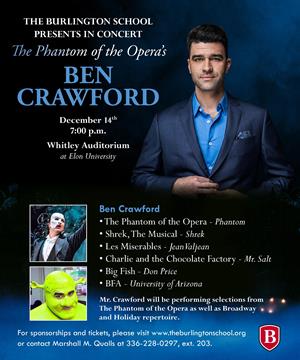 The Burlington School presents
Broadway's Phantom of the Opera
Ben Crawford in concert
Saturday, December 14, 2019 at 7:00 pm
Whitley Auditorium at Elon University
Join us for an evening of Broadway and Holiday selections by Ben Crawford. Mr. Crawford will perform selections from The Phantom of the Opera as well as selections from the Broadway and Holiday repertoire. He will perform one selection with the TBS choir. Sponsorships and individual tickets are available for purchase on this site. Should you have questions or need additional information, please contact Marshall Qualls at (336) 228-0297 ext. 203.
All tickets will be held at the Whitley Auditorium Box Office located on the campus of Elon University. The box office opens at 6:00 pm. No ticket refunds or exchanges for this concert. Should performers not be permitted to fly from NYC to NC due to the weather and the performance is cancelled, the Burlington School will reschedule the performance at a later date.
The Burlington School is a 501(c)(3) tax-exempt organization.