The Staten Island International Film Festival and The Italian Cultural Foundation at Casa Belvedere proudly present Staten Island's Premier Masquerade Ball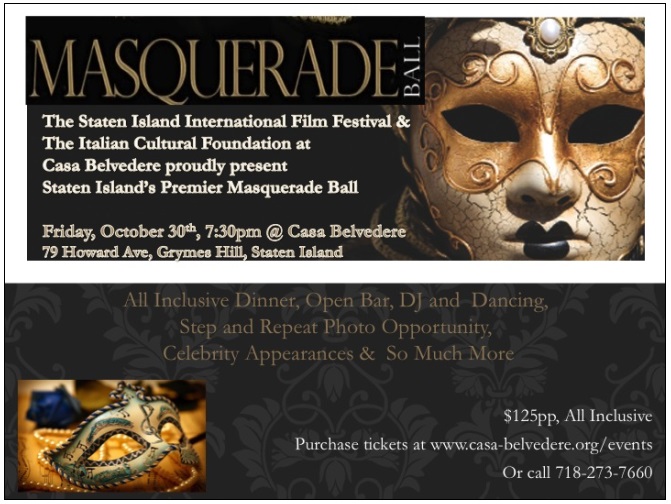 On Wednesday, June 24, 2015 a Press Conference was held announcing the Fall 2016 launch of a newly forming not for profit organization: The Staten Island International Film Festival. Next Fall's festival will showcase the works of filmmakers, actors, writers, producers and directors on Staten Island and internationally.
In attendance at the June 24th Press Conference was Borough President Jimmy Oddo who was quoted in June 25th edition of The Staten Island Advance saying: "The festival shows we can be a bedroom community and still have lots of other things happening simultaneously. Borough Hall is excited and we will try to be as helpful as possible."
This noble mission is being spearheaded by Steve Stanulis, retired NYPD officer turned actor producer who also organized the Atlantic City Small Film Festival in 2010. Many in the community believe that this is an opportunity for local, talented film-makers and actors to showcase their work, while also highlighting Staten Island's arts and cultural landscape.
The four day event is scheduled to begin on October 16, 2016 and run through October 2016. Screening locations aren't finalized yet. On the wish list: Historic Richmond Town, Casa Belvedere and Snug Harbor Cultural Center.
In the meantime, in order to defer the start up costs of the new, not for profit film festival, a Masquerade Ball fundraiser is being held on October 30, 2015 at Casa Belvedere, the ideal venue to highlight the arts and cultural community.
The Italian Cultural Foundation's mission is to preserve, promote and celebrate all things Italian to individuals and families of all backgrounds via a myriad of arts and cultural programming. The original "Stirn Mansion," renamed Casa Belvedere (House with a Beautiful View), was designated a New York City Landmark in 2001. Also in 2010, the mansion was listed on the New York State and National Register of Historic Places.
To purchase tickets for this exciting event on October 30, 2015, simply fill out the form below and your tickets will be mailed to you promptly. Allow 7-10 days from order date to arrive in the mail.
Tickets must be presented at the door for admission to the event.
Formal attire is required. We recommend a black or dark suit for the men (tuxedo optional) and a black evening gown or cocktail dress for the women. Both men and women are encouraged to wear Venetian style, Masquerade ball masks. Visit Amazon.com for a wide variety of styles to fit any budget.
Thank you for your support of The Staten Island International Film Festival and The Italian Cultural Foundation at Casa Belvedere, a registered 501(c) (3) not for profit organization. Your ticket purchase to this event is tax deductible to the extent permissible by law.
To receive notices on the many activities, classes, programs and special events held at Casa Belvedere, please click make sure the Opt-In box is checked and provide your contact information where indicated, or write to info@casa-belvedere.org.