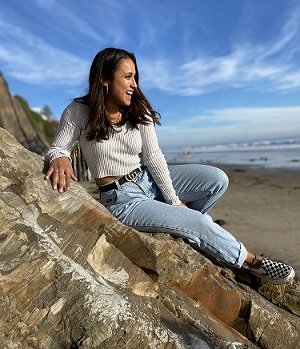 Alejandra Muro
Hello! My name is Alejandra Muro.
About a year ago, the Lord put a burn and a fire in my heart for His people. At first I couldn't understand why my heart felt so heavy and stirred, until he took me to Habakuk 2:2 "Write the vision; make it plain on tablets, so he may run who reads it" I plead to the Lord to show me a vision of what I was running towards. I asked him day after day, "Lord, what is my vision?" I had realized that my heart was being moved and stirred, and I wanted him to show me the purpose of my life. Then, my God answered with the word 'nations'. I have the vision and it is clearer than it has ever been. God has marked my heart with a burn for every soul. Every soul matters to Jesus, therefore, it matters to me.
There is a fire in my bones that is so consumed by the love of Jesus and everyone must hear it. Everyone must know Jesus. Therefore, I want to be sent out to the nations to preach the Good News of Jesus onto every nation.
I am part of Circuit Riders. A non-profit organization that is firmly grounded in the love of Jesus and is so determined in carrying the love to every depth of this earth. We host events called 'Carry The Love' in universities in America and Europe, where the gospel is preached to students. These students get encountered with his love and truth and get radically changed by his love and mercy. We long to see revival through being spirit led and believe solely in everything we read in the Scriptures. Our motto is saving the lost, reviving the saved, and training them all.
I really need you. You see my walk with God has always been on my own. No one there, but God and I. Although, many would say that's all you need. It's not true. That it's not biblical. God wired us to love others, to do life with others, to grow in community. That is why he speaks of us as the body of Christ. And all of us have many functions. Just like in our own bodies. What my eye does, my feet cannot do. I need you and you need me. I truly believe with all of me that this generation could be changed by the love of God. It is the love of God that can impact and change history. It is the love of God that heals, restores and delivers.
Please, would you prayerfully consider being a monthly supporter? Asking for help and being vulnerable it's not easy. And as a missionary you don't get paid, since all your time is fully devoted to growing His kingdom. We pretty much live off support, and available part-time jobs that fit our schedule. My dream is to preach all over the world, but your offering won't be going into me. It'll be going into what God is doing, it'll be going into his kingdom. And I know that contributing to His will, will bless your life greatly. So, I am excited to bring a team of investors together. Would you be interested in joining my team? Thank you for coming on this ride with me, it's going to be wild.

Alejandra