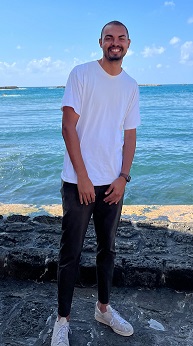 Andre Tinnon
Hello! My name is Andre, and I am a missionary with YWAM (Youth With A Mission), based in Kona, Hawaii.
The heart of YWAM is to empower young people to live fully devoted to the Lord and to equip them to further the Great Commission all around the globe! It's a community full of families and individuals with hearts burning for the lost and unreached.
I did my DTS (Discipleship Training School) in Kona in 2022, and was completely gripped for those who don't know Jesus in the world. I was sent on a team of ten young adults to the Middle East, and we witnessed God radically encounter and change the lives of many of the people we met. My dream is to continue to serve on the mission field through YWAM, and to give my life to see people come to know Jesus!
I'm committing this next season to the staffing program with the Fire & Fragrance DTS in Kona, a school that is dedicated to seeing Gen Z set on fire with passion for Jesus and making His name known throughout the world. I believe that waves of young people, including myself, will reach the far ends of the Earth with the Gospel, and you can be a part of it!
Would you consider supporting me in prayer and partnering with me financially to see the nations reached for Jesus?
Thanks you!

Andre

You may also give by check, if you like. Please make checks payable to "EquipNet" and make sure you include my account Equip3904 in the Memo Section on the face of your check.
Please mail to: EquipNet, P.O. Box 860 Alamo, CA 94507