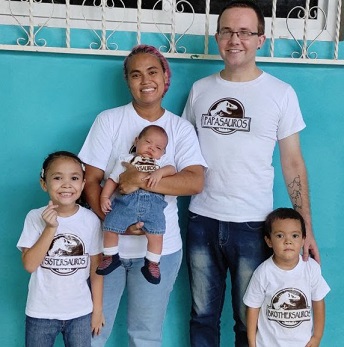 Andrea & Francis Frizelle
Andrea Lopez was born and raised in Puerto Barrios, Guatemala, the third child to a Pastor & Teacher. Having tested out job opportunities including teaching, medicine, and social work, she heard God calling her to missions and to do the Discipleship Training School (DTS) offered by Youth With A Mission (YWAM) in Guatemala City in 2010. From there she went on to serve in local missions with Ministerios Casa Verde back in Puerto Barrios.
Francis Frizelle grew up in England and worked for British Youth for Christ for three years upon turning 18, then going to University to study Psychology and serve with the Christian Union. After this he joined a missions program called the World Race which visits 11 countries in 11 months -- month nine was in Guatemala and his team was based with Casa Verde in Puerto Barrios. Andrea & Francis worked closely during that month and a friendship quickly developed.
Following that time, they started a relationship, Andrea went to work with YWAM England whilst Francis trained as a teacher, and they got married. They returned to work with Casa Verde and then completed a DTS together at YWAM Antigua (close to Guatemala City), going on to spend 3 years working with YWAM in Malaysia (during which time their daughter, Charlie, was born), and returning for 2 years to work at the YWAM Antigua Base (when their son, JJ, was born).
They have now followed God's call to return to Puerto Barrios, a place God keeps bringing them back to, to serve in missions, and a place strongly on their hearts. They are working with Pure Joy Missions in both front line ministry to orphans, the elderly, children with special needs, those living in poverty at the city dump, the children's hospital, and more, and in some of the behind the scenes areas of the ministry (such as finance, communications, logistics, and administration). They are excited to use the skills and abilities God has developed in them during their time in missions to help Pure Joy continue to grow into the fullness of what God has called it to be and do as a light to those in Puerto Barrios.
Learn more about the work of the ministry at purejoymissions.org and learn more about the Frizelles by visiting thefrizelles.tk. You can find them online at Facebook, Instagram, Twitter, Tumblr, and YouTube.

You may also give by check, if you like. Please make checks payable to "EquipNet" and make sure you include my account Equip3280 in the Memo Section on the face of your check.
Please mail to: EquipNet, P.O. Box 860 Alamo, CA 94507