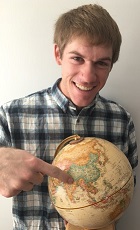 Britt Pennell
My mission with Iris Global:
My personal goal is to encourage people to encounter God's love. That is shown in many ways. My activities in the six weeks I've already spent in Nepal include construction on an addition to the church building, helping with a Thursday feeding program, tutoring math, doing street outreach, and learning Nepali.
When the opportunity presents itself I hope to join outreach teams to remote villages. I consider learning the language as a high priority, but also want to make sure that I am doing ministry as well.
Currently I am doing a three-month trial period with Iris to see if I am a good fit for their base team here in Nepal.