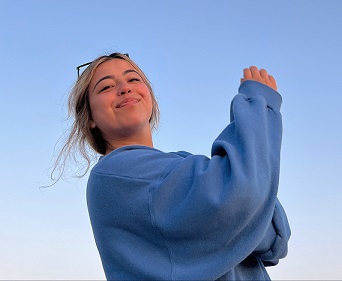 Bryana Kay
Hi friends! My name is Bryana Kay, most call me Bry. I'm a missionary in Huntington Beach with the Circuit Riders as well as helping to lead a house church in Los Angeles.
In 2019, I began attending a ministry night hosted by Circuit Riders every week, where my life was transformed by the power of Spirit filled community and the love of Jesus. I felt like the Lord promised me that one day He would pave a way for me to do a 6 month discipleship training school with Circuit Riders. Fast forward to the winter of 2020, I began my six month journey of learning more about the heart of Jesus and the Great Commission. I traveled 6,000 miles with my team and did loads of street evangelism, gospel preaching nights, and partnered with organizations in different cities to aid in their mercy ministries (such as care packages for those in low-income neighborhoods and water distribution).
I grew up in the city of Los Angeles, and leaving to go on outreach to different states in America, was the first time my heart really broke for the city I was raised in. The friends I had in L.A., had a dream to create a space for people to encounter Jesus and hear the gospel. They had a strong desire for their friends in the social media/entertainment realm, to have a safe place to learn about God and thus, "house church" began. What was once 10 people in a small apartment last summer, grew to nearly 100 gathering weekly in a house in Studio City. It is so evident the Lord has breathed on the ministry happening in L.A. and I love being close enough to drive up every week!
I was living in Los Angeles full-time until September 2022, when doors quite literally swung open for me to come back to Circuit Riders. The heart of CR is to save the lost, revive the saved and train all people to live like Jesus. I am part of the Brave Love expression, where we seek to unite and activate women in their God-given purpose. That is kind of broad, but day to day, the girls on staff and I meet from 9 to 5, Monday through Friday, to call women across the country, intercede for the nations, etc. My heart burns to see women set free from a silenced voice, fear, and self hatred. I will be going on tour in January for a couple months (location to be determined) and meeting with the women we're currently calling to see their communities/campuses transformed by the gospel!
So, that's a bit about my ministry life right now. For a moment, I would love to talk with you guys about personal prayers and finances.
The best thing anyone can do for me is pray. I genuinely mean that-- beyond finances or physical resources, having people interceding for my healing is the most generous thing I could ask for. I was diagnosed with lupus at the age of 12 and with that have had loads of other symptoms and sicknesses - arthritis, brain fog, fatigue, joint pain, sciatica pain, constant dry cough, kidney disease, and gut dysbiosis to list a few. I am so thankful for every prayer and intercession over the complete healing of my body. I get super discouraged sometimes about how much sickness feels like it hinders my ministry, but I know Jesus purposes everything and meets me right here-- even when that means I'm bed ridden for a few days.
Because of my health, I have to maintain a certain lifestyle which includes eating whole, organic foods and taking extra care of my body. I thankfully have an amazing family support system and get financial help with treatment and supplements.
I really believe that when Paul talks about reaping what we sow in Galatians 6, this comes into play with finances too. By reaping into the ministry the Lord has called me to, the fruit that has sprouted and that continues to bear, is your fruit too. I ask you to simply ask the Lord if there's any amount He lays on your heart to give towards my ministry :,) Whether that's $10 a month, or a one time donation, I am eternally grateful for the way you and I get to partner together in bringing the kingdom of God from heaven to earth!
Thanks!

Bryana

You may also give by check, if you like. Please make checks payable to "EquipNet" and make sure you include my account Equip3951 in the Memo Section on the face of your check.
Please mail to: EquipNet, P.O. Box 860 Alamo, CA 94507