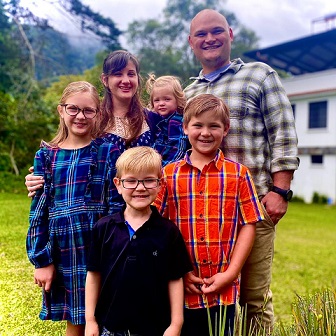 Caleb & Whitney Reichard
Matthew 9:37
Then he said to his disciples, "The harvest is plentiful, but the laborers are few; therefore pray earnestly to the Lord of the harvest to send out laborers into his harvest."
The Lord has blessed our lives in more ways than I can count. He brought Whitney to Salem Christian School many years ago where we first met, and she fell for me instantly (or was it the other way around?). By His grace, we safely made it through the Marine Corps and came out the other side with a beautiful baby girl, Lyndie Grace, a son on the way, Caleb Michael Jr. , and a new perspective on cherishing our time together. He performed works of healing we never even dreamed of in our son, Gideon Amos, despite his Spina Bifida. He gave us another beautiful baby girl, Natalia Hope, even though the chances were slim to none of having another baby. Throughout our lives Whit and I have always shared a passion for family ministry but have never felt the Lord's calling to missions until 2020.
The Lord has made clear His calling for us to serve at Hands of Compassion (Manos de Compassion) in Santiago Atitlan, Guatemala. My older brother David and his wife Deborah direct the ministry. Manos de Compassion is a children's home serving the Lord in the care of the orphaned and preaching the gospel to the lost. Their number one goal is to raise up abandoned, abused, and forgotten children to be men and women of Christ. Their area of ministry is made up of 5 main buildings, including 4 ministry houses and a school. Each of the ministry houses have "house parents" that look after the children in those specific homes. Currently, we are the house parents of the Love and Hope House.
The goal will be to take in and care for neglected and abandoned babies, toddlers, and young children and raise them up in the love and instruction of the Lord. The home will be run "family style" with constant discipleship and training in biblical principles. Along with being house parents at the Love and Hope house, we will also be assisting Dave and Deborah in their responsibilities as directors along with some of the day-to-day tasks that come up (such as building/vehicle maintenance, driving, bookkeeping, etc.)
Partner with us!
A ministry like Hands of Compassion would not be possible without the prayers and support of people like you! As we embark on this mission, we have many needs that we are excited to see the Lord meet! We are grateful for your prayers and if you feel the Lord's leading, your financial support.
We would greatly appreciate your help as we follow the Lord's calling.

Caleb & Whitney
You may also give by check, if you like. Please make checks payable to "EquipNet" and make sure you include my account Equip3512 in the Memo Section on the face of your check.
Please mail to: EquipNet, P.O. Box 860 Alamo, CA 94507