Casey Martin
Raising money to live a life as a missionary for Jesus is probably the last thing I thought I'd do.
Many of my family and friends know, I've been a dancer and a bit of a body nerd most of my life. I've lived a life of discipline and have worked hard for the things I've "earned". Shoot... this past spring I was attending one of the best liberal arts colleges for dance in the nation! I was on track to be amongst the smartest and most prepared young people to enter grad school, write in academic journals, and be sought out for podcast and panelist discussions.
But Jesus changed all of that. God busted into the scene of my life in 2020 and I will never be the same. He's shaken the foundations of who I am: exposed the groundwork of brokenness in my heart and of my desperate need to fill the hole that is meant for Perfect Love.
I've grown up in a Christian home all my life and I never knew that God's Love was for me. That "Jesus loves me" is more than the start to a childhood song or a mantra to meditate on. That Jesus is far more than someone who did a bunch of good things to look up to, and always come short of. That the Church is created to be a beacon of joy and light to the world--a way to shift culture itself into looking like the nail pierced hands of a God who gave Himself up to live a life amongst the worst of humanity; given to empty Himself to the point of death. All this, for me. All this, for all of humankind to be close to their Creator once again. All this, so that this generation can be the ones who tear down the separating curtain of religion to see the face of Jesus in a nation bent on pride and obsessed with material possession. I tried that. I tried all of the striving--for titles, for a reputation, for acceptance and belonging. Turns out, I had to do nothing but turn to the One who did everything for me.
This is why I'm putting all of the things I thought were worthwhile to the side so that a generation can see Jesus like I've seen Him. I've seen and I've heard what the Lord can do in an environment where His Love is given full reign. I've seen people with crutches and casts walk out of a meeting completely healed. I've witnessed years of shame and unworthiness leave a woman's body as she encounters the Savior of her soul. I've felt the joy of middle schoolers experiencing for the first time the voice of their heavenly Father, and the dignity it instills in their young souls to know Whose child they are.
I've experienced all of these things because they are, in many ways, what Jesus has done in my own life. How can I stop it from replicating again and again until disciples, carrying the truth of Jesus Christ, have been made across the entire earth? Reserved, apathetic Christianity is done for! My heart is to see a generation of young people be raised up for the sake of the Good News; it's to see women walk out their callings of great faith and to see them receive a heart of compassion for all people... a heart after Jesus Himself.
This call includes everyone, even me! Living my life chasing after accomplishments and titles that will never satisfy my soul, seeking the approval of people who care only about themselves, too unsettled to be silent yet too fearful to do anything about it... If I can live this life and in 8 months go from getting baptized to getting called to the missions field of the United States, imagine what God will do as He works through me and through you!
This is the power of ultimate and complete forgiveness; this is the power of the Gospel to awaken the dead and call them into life! So I ask for your prayers and support with great humility, and an acknowledgement that your contribution is a willing sacrifice, given up for another. What an honor it is to be wrapped up in His story! What an honor it is to ask for your partnership in what He is doing in and through my life!
If you want to hear more about the Circuit Riders and what I will be doing as part of their January CR Experience training (Brave Love track!), check them out: https://circuitriders.com/cr-experience/ & https://bravelovewomen.com.
Be blessed, and may Jesus receive all that He is worthy of.

Casey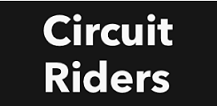 You may also give by check, if you like. Please make checks payable to "EquipNet" and make sure you include my account Equip3443 in the Memo Section on the face of your check.
Please mail to: EquipNet, P.O. Box 860 Alamo, CA 94507