Cedars92 Compassionate Relief Fund
Scott and Joann Richardson with Cedars92 serve in Beirut Lebanon, offering pastoral care to ministry leaders in the Near East, and pastor the International Community Church (ICC) in Beirut.
Cedars92 is now launching a Cedars92 Compassionate Relief Fund in order to raise funds to help two organizations who serve vulnerable, marginalized people groups, with whom ICC collaborates.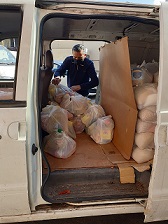 "LM", the director of a special needs school, which continues to be shutdown by the Coronavirus until January 2021, was compelled to begin serving the families of her special needs students along with other poor families who continue to be referred to her. At last count, she is serving over 600 families with food, homemade diapers and help with medical expenses, out of her own pocket and with minimal donated funds. She is the "real deal", compelled by the love and compassion of Jesus, and we invite you to join us in coming alongside her in this vital effort. Link to video showing new reusable diaper design


Insaaf -- serving Migrant/Domestic workers (MDWs) with food, medical aid and prison ministry

MDWs in Lebanon serve under an oppressive labor system that provides them with no rights. They are essentially modern day slaves.
Many MDWs are losing their jobs but are unable to return home. Some are being dumped at their embassies as their Lebanese families can no longer pay them, while others are accused of crimes and taken to jail, simply to get rid of them. Link to BBC news video showing plight of MDWs in Lebanon
Both of these initiatives are run by women of God who care enough to serve these at-risk people with the love of Jesus. All funds given will be sent directly to them for immediate compassion needs.
Why a call for a compassionate relief fund now?
Since October 2019, when street demonstrations brought thousands out to force the downfall of the government, the economic situation has been significantly worsening in the country, causing severe hardship for both the Lebanese poor and the middle class, as well as Palestinian and Syrian refugees, and migrant/domestic workers from around the developing world. Even though (as of June 2020) Coronavirus cases continue to increase at only a moderate level and the country continues to re-open after lockdown, there is no relief in sight for the people of Lebanon as the economic and political situation spirals out of control.
The Lebanese Lira is plummeting quickly, dropping over 80% in value against the US dollar in 9 months. This has produced:
Rapidly escalating food prices and food insecurity, due to the fact that much of the food is imported
Bread lines, as bakeries are stopping production, and food shortages (suppliers have to pay in USD, while being paid in Lira)
Fuel and electricity shortages (again, because of the currency crisis)
Street protests have begun again 3 weeks ago, demanding the fall of the new government in place since January
At least 50% unemployment (although official figures are difficult to determine)
And now, the threat of war looms again on the horizon
This is the time to come alongside believers in Lebanon who are helping to serve the poor and to communicate the love of Jesus in practical ways. We invite you to join us as we seek to put into practice the words of Jesus in Matthew 25:
"Then the King will say ... 'Come, you who are blessed by my Father, inherit the Kingdom prepared for you from the creation of the world. For I was hungry, and you fed me. I was thirsty, and you gave me a drink. I was a stranger, and you invited me into your home. I was naked, and you gave me clothing. I was sick, and you cared for me. I was in prison, and you visited me.'