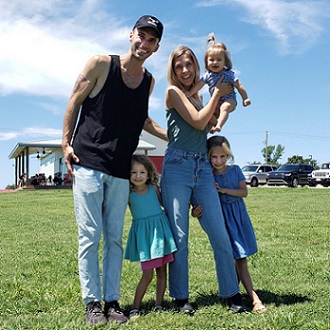 Devin & Kate Coogan
Thank you for visiting our page!
Our story is simple: we're a young family overflowing with love & joy for Jesus Christ. Since 2013, we've been on mission to see cities awakened with the unequivocal power of the Gospel and an outpouring of the Holy Spirit. We hold the conviction that we're in a historic window of time to steward revival & reformation.
In 2021, we sold our house and belongings-embarking on the evangelism-driven Jesus People Tour with the Circuit Riders [Huntington Beach, CA]. After missions cross-country [in an RV] we continued our work in the Arts; launching an artist-discipleship school to raise up a new wave of evangelists whose expression will reach the lost.
This year, we will travel to the base of Youth with a Mission (YWAM) to begin Discipleship training School (DTS). Officially, we are full-time missionaries!
DTS is a 6 month experience where we will spend 3 months at the base undergoing formal training, then 3 months in the nations on outreach.

We believe America and the nations are ready for a Harvest. This is a Love Revolution; a new kind movement that's centerpiece is Jesus Christ. Every aspect of culture will be met by His Love!
If you also have a longing to see America & the nations encountered by the Lord, would you consider participating with us? Your faith, expressed by sowing financially and in prayer, will have a dramatic impact!
D, K + 3

You may also give by check, if you like. Please make checks payable to "EquipNet" and make sure you include my account Equip3527 in the Memo Section on the face of your check.
Please mail to: EquipNet, P.O. Box 860 Alamo, CA 94507