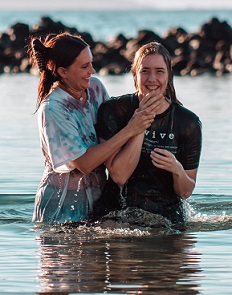 Eliza Marshall
My name is Eliza Marshall and I am a long term missionary with Youth with a Mission!
My training started right out of high school in Kona, Hawaii. I attended a discipleship training school with YWAM for 6 months. Three of those months were in Kona, getting closely discipled, interceding and worshipping for the majority of our time, and learning under long term missionaries and teachers from around the world. The last three months, I joined a team of 15 that travelled as missionaries to Southeast Asia for a month and followed that with missions in Mexico. Our ministry varied as part of our training for all spheres of ministry.
While in Hawaii, I felt a constant tug and call from the Lord into long term missions. My heart has been broken over and over again, that the nations would come to know Jesus and go to make Him known to other nations. I believe so strongly that our "yes" to the Great Commission, no matter what that looks like, carries more weight than any of us can begin to comprehend. Leaving family behind, my job behind, a culture I know, a language I am comfortable with, leaving friends, etc., is all so that the nations would receive their inheritance as sons and daughters. My time in Southeast Asia quickly opened my eyes to the lack of laborers in the nations, and I can't let another day go by without taking a leap in faith to make Jesus known. He is worthy of the nations.
Along this journey, I have come to the realization that I cannot do this alone. Being a long term missionary requires support! Would you prayerfully consider being part of my prayer group and/or a monthly supporter? Not only does your support contribute towards my ministry in the nations, but it will cover my travel to and from the nations, housing, food, visas, medical bills, etc. I would love more than anything to partner with you in this. My story goes beyond myself; but rather, this partnership means Jesus can be known in the nations.
Would you help send me?
Eliza
You may also give by check, if you like. Please make checks payable to "EquipNet" and make sure you include my account Equip3902 in the Memo Section on the face of your check.
Please mail to: EquipNet, P.O. Box 860 Alamo, CA 94507