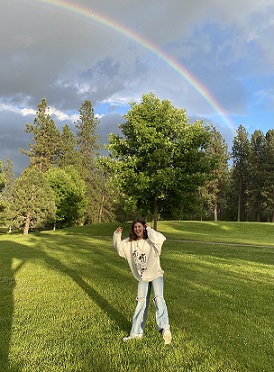 Evelina Kopets
Hey! I'm Evelina Kopets!
I'm a full-time missionary with YWAM (Youth With a Mission) in Kona. Hawaii. I staff our Fire and Fragrance DTS (Discipleship Training School).
As a ministry we value:
1. Worship & Prayer
2. Unapologetic Spiritual Awakening & Revival
3. Youth Movements
4. Unreached People Groups + the Nations
I'm currently doing a 3-month leadership
training course in preparation for our fall Fire and Fragrance DTS. Once the students arrive in September, I'll be living with 8-10 women and discipling and equipping them for ministry in the nations. When our 3-month training phase has finished I will be leading an outreach team to the nations for three months. We will be serving, loving, sharing the gospel, and walking the earth like Jesus!
I have been called to the mission field since as long as I can remember. God gave me many dreams as a child. In kindergarten we memorized bible verses and the one that gripped my heart was the verse for the letter G "Go into all the world and preach the gospel" Mark 16:15. And that's exactly what I get to do! I am so honored to walk in obedience to what the Lord has called me to do.
Would you please prayerfully consider partnering financially as I love, serve, and go to the nations?

Evelina
You may also give by check, if you like. Please make checks payable to "EquipNet" and make sure you include my account Equip3899 in the Memo Section on the face of your check.
Please mail to: EquipNet, P.O. Box 860 Alamo, CA 94507