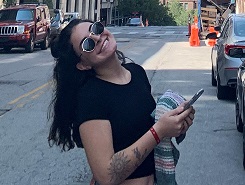 Hadassa Morais
Hadassa is from Coral Springs, Florida. She felt a calling to the nations and straight after high school, the Lord sent her to YWAM Kona and to the nations and marked her with a heart to see real people meet the real Jesus, in the nations. She is now a full-time missionary in Kansas City, Missouri serving The Send and mobilizing the church. The heart of The Send is to activate, train, and send believers to the ends of the Earth to see the Great Commission fulfilled. Her heart is to see people radically encountered and transformed by Jesus. She is also a singer/songwriter reaching people with music.
She surrendered the "normal" lifestyle of college after high school and a 9-5 job to serve and live the missional lifestyle the Lord has called her to. She understands it's not easy and not for everyone, but believes with her whole heart that she is living out her original design. As a missionary, she raises support and is supported by family and friends. By supporting her, you are sowing seeds that will reaped in heaven, seeds much bigger than her and her life on Earth.
Hadassa

Send me an email! hadassamorais@gmail.com

You may also give by check, if you like. Please make checks payable to "EquipNet" and make sure you include my account Equip3413 in the Memo Section on the face of your check.
Please mail to: EquipNet, P.O. Box 860 Alamo, CA 94507