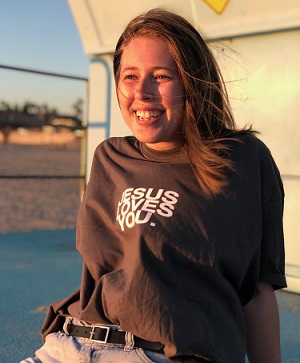 Jaqi Robson
Hi! My name is Jaqi Robson!
I'm 22 years old and love Jesus, spontaneous adventures, and having fun. I'm from Indiana originally but have been living in Denver, Colorado for over 12 years. I balance my time between working as a preschool teacher and getting a degree in Marketing and Communications at Metropolitan State University of Denver. Earlier this year God called me to pause my schooling and become a full-time missionary with an organization called Circuit Riders!
I've always had a passion for reaching people in my generation with the love of Jesus. Circuit Riders is a YWAM school that focuses specifically on reaching college students in America and I completed my DTS (discipleship training school) in March 2020.
During my DTS I knew the Lord was calling me to come back and become staff with Circuit Riders and that's exactly what I did! I will be working specifically on their media team to produce weekly church live streams as well as other content to reach and encourage people. I have always had an interest in media (that's what I am seeking a degree in!) and so I'm excited that the Lord is continuing to use me to reach His people through media. NLT
But, I'll need your help to do this. Due to how much work I'll be doing for Circuit Riders I won't be able to get a job while out there. I've moved to Huntington Beach, California with the rest of Circuit Riders staff and have total faith that God will provide for me! Being a self-funded missionary is hard, especially when expenses of everyday life (like buying groceries) stack up so high, but I know that this is where God has called me to be and that He will provide! "And if God cares so wonderfully for wildflowers that are here today and thrown into the fire tomorrow, he will certainly care for you. Why do you have so little faith? "So, don't worry about these things, saying, 'What will we eat? What will we drink? What will we wear?' These things dominate the thoughts of unbelievers, but your heavenly Father already knows all your needs." Matthew 6:30-32 NLT

Thanks for your prayers and financial partnership!

Jaqi