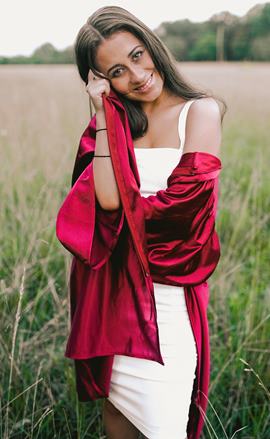 Jordanna Bussey
Who I Am:
Hi! My name is Jordanna and I am an 18-year old photographer and musician from Charlotte, NC, with a passion to practically provide guidance for others to experience the essence of salvation and sanctification. To lead them to a life filled with strength, endurance, dedication, and purpose, through love, the Bible, and hopefully soon with a deeper knowledge of theology and psychology. I believe these things can help toward fostering a better understanding of our identity in Him and how He created us, as well as God's character throughout history and the ways He works.
I want to inspire and lead others to live a life where they are willing to be utilized by Jesus, rather than the enemy or this world. I have come to understand that the only thing that we take with us when we depart from this world are the people that we meet. Our talents, home, money, places, careers, relationships, these are all gifts to be utilized for building the Kingdom of Heaven, otherwise the impact of these things will not last. That is why I believe the life I am called to live is one with the purpose to expand His kingdom, so more people can have an eternity with the Father.
Now that I have graduated High School, I've taken my first big step of faith into that calling and will be heading to Israel in September 2019 for several months of ministry grounding and outreach.
What I Will Be Doing:
My first few months in Israel will be spent learning, getting equipped, and growing in community, my relationship with God, and my understanding of practical theology and ministry. It is going to be a season of filling up and refining as I dive deep into a new season of full dependence on and devotion to Him.
I am believing for the wallpaper within my heart to be torn down to be realigned with His word and His Spirit. Becoming an empty vessel for Him to fill with oil. Giving up all of myself in exchange for Him, so I can live the life He truly intended and designed for me to live.
After the first few months of training and preparation, I'll be taking everything I learn and putting it into action with faith, sharing the message and love of God as I travel to other nations for outreach.
I am unsure currently of where the Lord will send me for this, but look forward to all that is to come with that and am believing God for some amazing things.
What I'm Believing God For:
I believe God wants to tear down walls of hostility between the nations, and form us into one man in Christ (based on Ephesians 2).
I am believing that God will use me and my team to build bridges that lead those who have not yet recognized Jesus as the Son of God into relationship with Him. (Eph. 1:11-12)
I am believing that God will use me to set free people from bondage, evil spirits, curses, false religions, possession, oppression, disease, toxic mindsets, patterns, and conformity to this world - anything that hinders them from a relationship and eternity spent with Him.
I'm believing that God will lead me to speak life, pray over, and prophecy over dead things and places, as well as the places where His feet will land one day again.
I am believing God for divine appointments with people in positions of influence, power, and authority, so they can influence this world toward Christ, sharing His truth and using their gifts for His glory. Understanding that He is above all power and authority in this world (Ephesians 2:20) - but that He also gifts us with greater power and authority in Jesus name, so we may live and work miracles on behalf of Him. This i believe is the strategy for making a widespread difference in this world, to reveal Jesus to every nation and build armies of warriors on behalf of Jesus. The ones with the position of influence, being the Generals that command these armies.
I am believing God for the opportunity to reach the ends of the earth that haven't yet been reached or received Jesus, and to prepare the earth for an eternity in Heaven and the second coming of Christ.
I am believing God to build my faith to be so bold to present opportunities for Him to move greatly and literally, the ways He did in the Bible. That He will remove the mountains in front of me, and destroy all my doubts, and shatter unbelief at His feet.
I am believing God for a life so dependent on Him and so preposterous to anyone, unless it is seen through a heavenly lens, so that only He could receive the glory from what is accomplished.
And lastly, I am believing for this to stir faith in your own heart with a desire to see Heaven's Kingdom come in your own life and community.
How You Can Partner With Me:
If any of what I've shared has pulled on your heart, I'd love to invite you to partner with me through prayer and financial support as I work to spread the love and message of Jesus to the ends of the earth.
My goal is to raise $11,000 which will cover the costs of my travel, training, outreach, and living expenses for the duration of my training program (September through February). The first half of this amount will be due before I leave on September 8th.
I fully believe this is only a number to our Heavenly Father, who is not only our provider, but our provision, and that the body of Christ will come together to make a way to send me on this journey. I believe He sees this number as a bridge to get there, rather than a road block.
I even want to challenge you to pray about how God wants you to invest in this, and how much He places on your heart to give, and believe in faith that He will provide that for you and more! We serve an amazing Father who loves to work through His people and loves to bless us, see our faith in action, and answer our prayers.
Thank you for your love, support, and encouragement and taking the time to read about what the Lord is doing in my life.
I can hardly wait to hear from you and share more about what the Lord does in my life and the lives of others as this journey unfolds!
- Jordanna Bussey