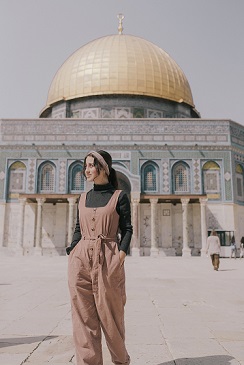 Jordanna Bussey
ABOUT ME:
If you and I haven't met before, my name is Jordanna Bussey. I am a 21-year-old Messianic Jew from Charlotte, NC. I have a burning desire in my heart to hasten the fulfillment of the Great Commission and to serve the Lord in Houses of Prayer. When I was 15 the Lord gave me prophetic dreams of being in the land of Israel, and a calling to declare the 2nd coming of our Lord Yeshua (the Hebrew name for Jesus)! God made it clear to me that He had called me to Israel to be a witness to the Jews and Arabs in the land. I knew that my path ahead would be a path leading me to Jerusalem.

When I was 16, the Lord spoke to me and told me that I would go in September 2019, when I was 18 years old. Once 2019 came, I found a Discipleship Program on location there, it was scheduled to start in September of 2019. I had no clue how I was going to get there and had no money! But I knew with everything in me that I had to go, and that I would never be at peace in my life if I didn't. So, I was accepted into the program and had 2 months before I would leave. The total for school + living + travel was going to be around $11,000.
MY TRIP TO ISRAEL
Not only did God take me on this wild journey - but He showed me what a life of radical trust and faith would look like. God provided every expense either at the last minute or passed the deadline even! I booked my plane ticket 2 days before I went because I didn't have enough until then, and I had $2,000 due upon my arrival for school + another $5,000 to stay there for the whole 6 months! I decided to test the Lord in this - I knew if He gave me a calling to go there, that He would sustain me.

I knew that if I got on that plane - it meant He was either going to have to provide the money to stay, or the money for a ticket home. Wow, did God show up! Not only did He provide everything - but it was the most life changing experience. I learned so much from the discipleship training, I got to visit and spend quality time in so many biblically significant locations in Israel. I lived in Jerusalem. I made some of my best friends there. I got to witness to Jews and Muslims, I got to pray for many people to be healed and then watched the Holy Spirit heal them!
MY OUTREACH IN INDIA
I also got to spend 2 months in India on outreach on a small team of 6 people - we traveled to 6 locations around India preaching the gospel, supporting churches, and eventually lost count of how many people were healed in those 2 months, but the number was somewhere close to 100 healings! Blind eyes, broken feet, severe back pain, cancer, infertility, and more were all healed in the name of Jesus! Many people were delivered, and many people received salvation and eternal life in Jesus! I never would have been able to go serve the Lord in His field if it weren't for how He raised up supporters in prayer and finance.

If you were one of the people who supported me during that time in 2019-2020 I want to say thank you! You have sewn into the Kingdom of Heaven, and also into my life and those reached with the gospel of Jesus! I'm forever thankful for you!

While that was a summary in short of the last time I was sent, I am so excited to share with you where the Lord is sending me next!
GOD LEADING ME TO DEDICATE MY LIFE TO THE HOUSE OF PRAYER
During my time home, the Lord began to shift my heart deeply. My deepest desire became to live my life from the floor of His Throne Room. I remember kneeling in prayer next to my bed telling the Lord how desperately I wanted to just spend most of my time in my life in the House of prayer. Wholeheartedly dedicated to ministering to His heart, seeking His face, worshiping and interceding for the earth and His purposes to be fulfilled. I remember telling Him it didn't feel possible. Who would support this? How would I be funded for something like this? One of the Bible stories I didn't know about at the time was about the Tabernacle of David and the Levites who were funded by David to minister to the Lord day and night!

Once I learned about this - it showed me not only is it possible - but it is His heart's desire.

My mother had told me growing up that God gave her my name. Jordanna... she loved the significance of the Jordan River bringing life into dead places, the way it flows into the Dead Sea. That it was used to baptize and signify life. That the Jordan river was split so the Israelites could pass into the Promised Land with the Ark of the Covenant. She loved Anna who dedicated her life to the Temple, seeking the Lord's face, worshiping, praying, and fasting, day and night. Anna and Simeon's desire was to see the face of the Lord before they'd see death. The Lord fulfilled this desire in Luke 2, when Jesus Himself was in the temple as a child.

My mom told me when I was young "I named you Jordanna, because my deepest desire has been to see the Lord's face for myself, I want that for my daughter, and I believe that's why He gave me your name - because He wants this for you as well."

Before my mother became pregnant with me, she cried every night for 1 year to have me - similar to Hannah's cry for a son who was the prophet Samuel, who Hannah later dedicated to the temple in 1 Samuel 1.

I've known for a long time now that God has called me to one day live in Israel. It began to feel so clear in this last year though, that God has also called me to dedicate my life to the House of Prayer as well as missions. Not only that - but it became my deepest desire, as it was David's in Psalm 27:4
"One thing have I asked of the Lord,
that will I seek after:
that I may dwell in the house of the Lord
all the days of my life,
to gaze upon the beauty of the Lord
and to inquire in his temple."
"SO, JORDANNA, WHAT'S NEXT?"
Well, there is a simple answer... or there is a super wild, crazy, praiseworthy answer!

The simple answer is that God has led me to join UPPERROOM's House of Prayer in Dallas, TX for their ministry school beginning in mid-August 2022!

The crazy answer is this --

Before I went to Israel, my mother was praying over me for my trip when she saw a vision of a Tsunami that she felt represented a move of God. She said she saw me in the middle of it as a voice pulling strategic people into it. Once I got to Israel, I began reading a book called "Is that really You, God?" by Loren Cunningham, who is the founder of Youth With A Mission and I discovered that Loren had the same vision of a massive wave of missionaries being sent to the nations.

Later, on my very last day in Israel there was a book that I'd never seen before on the dining table. It was a book called "God's Tsunami: Understanding Israel and End-Times revival. I snapped a photo of it, but didn't end up buying the book until later.

Once I was home in Charlotte, the Lord began to stir my heart for the House of Prayer.

There is a small House of Prayer in Jerusalem called Succat Hallel that overlooks the Mount of Olives, the Temple Mount, the Old City, the Kidron Valley, and the City of David! This little safe haven was my favorite place in the world.

Fast forward -- October of 2021 rolls around and I decided to ask the Lord what He was doing in leading me back to Israel. He began to reconfirm this same word about this Tsunami of Revival over 20 times in ways that could only be Him!

I intend to write a more detailed letter about this to post on my newsletter, but it turns out that this Tsunami has everything to do with revival, intercession, worship, Houses of Prayer, David's Tabernacle, and the great harvest!

I felt that God had made it abundantly clear that I was called to dedicate my life to supporting and maybe one day birthing a House of Prayer in Israel.

Though I took a step to pursue an internship at the House of Prayer in Jerusalem called Succat Hallel - it seemed as though the doors weren't quite opening for me to return to Israel yet, and I didn't feel a peace that it was my time to return.

During this time, I was also watching UPPERROOM's sermon series called Maranatha. Maranatha is the Aramaic word meaning "He came" or "He's coming" or "So come".

It was the best sermons series I had ever heard! UPPERROOM has such a massive heart for Israel and cares deeply about preparing the earth for the coming of the Lord.

My close friend, Sofia, who I had the privilege of discipling, had just decided to apply for UPPEROOM's school of ministry.

I had also just found out that UPPERROOM had plans to plant a House of Prayer in Jerusalem. It all seemed to fall in place - I decided to apply for the school!

The Lord completely swung open the doors, and they skipped my interview and accepted me!
ABOUT THE SCHOOL: WHAT IS UPPERROOM + UPPERROOM SCHOOL OF MINISTRY?
UPPERROOM is a House of Prayer located in Dallas, TX.

On UPPERROOM's about page, you can read about their ministry.

"His presence transforming lives... morning, noon, & night. There is a fire in our hearts to see a move of God sweep across the globe. He is the preeminent answer to our greatest needs, and the only thing that will transform lives and cities. Our mission is to be an equipping engine for ministry to the Lord through planting local churches, events, training, funding modern-day Levites, and creating online media resources for the masses.

UPPERROOM School of Ministry exists to train and equip believers to minister to the Lord first; their desire is to make space for His presence to transform our lives and cities through intercession, miracles, signs and wonders.

In USM we will spend 25 hours a week focusing on the following activities:

Classroom, prayer room, transformation group, serving UPPERROOM Dallas, homework, weekend worship services, activation/evangelism.

Additionally: UPPERROOM currently is funding to plant a House of Prayer in Jerusalem. This is what tipped the boat for me to join them for their School of Ministry and to potentially join them in Jerusalem as they plant this House of Prayer there.
WAYS TO GIVE + FINANCIAL NEEDS:
While I have been working, I have mostly been living paycheck to paycheck.

I have been working hard to get my photography business off the ground, but I have yet to reach any sustainable income through this.

I am looking for both prayer and financial partners as I take these steps in faith and obedience.

Here is the breakdown of financial needs (I have placed them in order of priority below) and monthly expenses that I will have + ways you can help provide support:
Tuition Remainder: $4,450 -- Due by August 15th
Moving Expenses: $1000 -- I plan to move the 2nd week of August.
Living Expenses: $1785/monthly -- This number is an estimated monthly cost. While I'm not necessarily asking for the full coverage of this number, as I do intend to work to cover as much as possible, I will be limited to part-time work while I'm in school. Housing will not be included during the school, and I will be renting a home with 2 roommates. However, with the cost of living being so high, it will be hard to pay all of my bills with a part-time paycheck. Any funds raised that surpass my tuition and moving cost will go straight to covering my rent + living expenses (i.e.: my current car payment, insurance, food, toiletries).
Thank you so much for taking the time to hear my testimony! If you feel compelled by the Holy Spirit to give financially -- You can give both a 1-time gift or become a monthly financial partner through this page! Donations through EquipNet are all tax-deductible!

Here, below is how you can stay in touch with me!

Website: https://jordannabusseycreative.mypixieset.com/blog/
Sign Up for My Newsletters: https://gmail.us9.list-manage.com/subscribe?u=53b8deff647bc6c33e01ed722&id=4ff8b36b62
Email address: jordannabusseycreative@gmail.com

You may also give by check, if you like. Please make checks payable to "EquipNet" and make sure you include my account Equip3227 in the Memo Section on the face of your check.

Please mail to: EquipNet, P.O. Box 860 Alamo, CA 94507