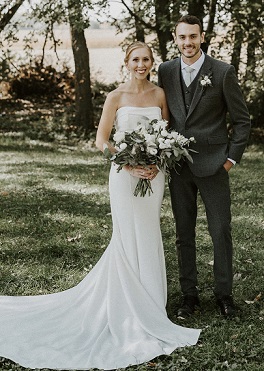 Kaleb and Bekah Gunderson
Hello from Kaleb and Bekah!
We are originally from Minneapolis, Minnesota and have been called into long term overseas missions in the Middle East.
After both having some missions experience and having spent time in the working world we began dating and God made it clear that we are to spend the rest of our lives together. It has been a wild ride already and we are still in awe at the faithfulness of God in bringing us together.
We were both on our way to move and do mission work long-term in the Middle East independently of one another, and as we began to grow in our relationship everything fell in line for us to get married and to live out God's plan together!
In the last year we have felt the Lord pulling us to an organization called Youth With A Mission or YWAM (which Bekah has served with for the past several years). We are currently in Minnesota for a short time until we begin our journey to move long term to the Middle East in the Spring of 2022. There are vast amounts of people who are unreached with the gospel and have little to no access to Bibles or local believers.
Our desire is to reach as many as possible with the life changing message of Jesus's love and His finished work on the cross.
Our hope is to have a team of people partnering with one heart for the Lord and for others so that we can share with many who have never heard God's story.
Would you prayerfully consider partnering with and supporting us in prayer and finances to see a generation reached with the message of Jesus in the nations?
With great love,

Kaleb and Bekah
You may also give by check, if you like. Please make checks payable to "EquipNet" and make sure you include my account Equip3424 in the Memo Section on the face of your check.
Please mail to: EquipNet, P.O. Box 860 Alamo, CA 94507