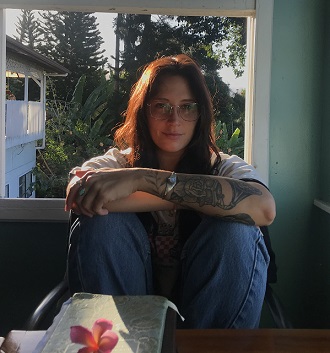 Kelsy Francis
My name is Kelsy Francis, and I am a full-time missionary with YWAM in Kona.
This past year, my life was radically transformed. I went from working as a Case Manager in the Child Welfare System, with a yearly salary, and having my own place - to laying down my career, selling all my belongings, and moving to a missionary base in Kona to enroll in a 5-month Discipleship Training School (DTS).
This experience changed my life - as there was a moment between me and the Lord, where he spoke clearly to me, and revealed that this is what I was always created to do. God has specifically called me to go out to unreached nations and be the hands and feet of Jesus. My heart burns for those living on the margins of society. I am passionate about seeing them come to know their identity in Jesus and be set free from all oppression.
In this season, I have the honor of staffing this Fall Quarter DTS. That will practically look like me walking with and discipling DTS students in Kona for 3 months, then leading a team of students to another nation for outreach. During our 3 month outreach, we will be serving many, sharing the gospel, and empowering people to walk in the fullness of who they are created to be.
To be able to pursue long-term missions, I am in need of $2,000 of monthly support for the duration of time. These funds will cover my rent, food, and travel expenses for outreach. I am humbly asking if you would consider partnering with me as a monthly donor to support the great commission being fulfilled and seeing the lost come to know Jesus. I deeply appreciate any amount and am trusting that God will provide abundantly! Thank you for loving me, believing in me and supporting me. It is an honor to invite you all alongside me throughout this journey.
All my love -

Kelsy

You may also give by check, if you like. Please make checks payable to "EquipNet" and make sure you include my account Equip3669 in the Memo Section on the face of your check.
Please mail to: EquipNet, P.O. Box 860 Alamo, CA 94507