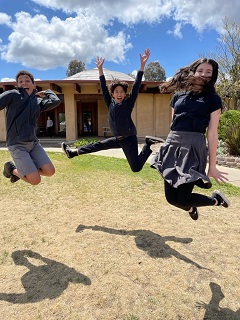 King's Classical Academy
Choosing a school is one of the most important decisions in a parent's life.
Our mission at King's Classical Academy is to partner alongside families, educating students to flourish as wise thinkers and spiritually mature citizens who will shape culture for the glory of God.
KCA uses Classical education, an effective method that matches the style of instruction to the natural development phases of children.
• Grammar School (Grades K-6), when students' abilities to memorize peak, we provide them with a solid factual foundation in all subject areas.
• Logic School (Grades 7-8), when students love to question everything, we focus on cultivating thinkers by providing Aristotelian and Boolean logic courses to help develop reasoning skills.
• Rhetoric School (Grades 9-12), when youth yearn to express their independence, we empower students to express themselves with clarity and confidence. Coursework includes choosing a thesis to help fine-tune written and oral communication skills.
KCA strives to fulfill our mission and partner with families, would you prayerfully consider partnering with us financially in helping make Classical Christian Education affordable to families in the Livermore and Tri-Valley area?

You may also give by check, if you like. Please make checks payable to "EquipNet" and make sure you include my account Equip3882 in the Memo Section on the face of your check.
Please mail to: EquipNet, P.O. Box 860 Alamo, CA 94507