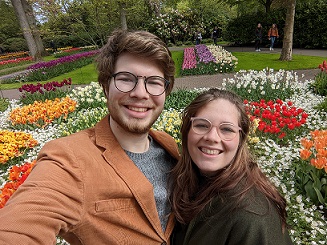 Liam & Julia Holdahl
In 2017 Julia and I met at Bethany Global University in Bloomington MN. We were fast friends and in our second year of school we began dating. The month before what would have been our third year of school in the summer of 2019 we got married!
We both have felt a deep calling to help those that have been oppressed by the human trafficking operation in Europe. Though we were unsure of what the future held, we both felt called to leave our university and pursue paths that would better equip us for our future. We began serving with our local church in any way we could and were blessed by many people pouring into us and helping us become as ready as we could be for what the Lord had in store.
We have since spent time in Europe serving in Amsterdam and have decided to put roots down and serve with YWAM Amsterdam in their efforts to fight Human Trafficking. During our time in Amsterdam we felt a deep calling to the city and love working in ministry here.
While the road ahead is set to be tough, we have learned just how rewarding following the path of the Lord can be when we accept the trials he puts before us. We appreciate all of you who are supporting us whether that be financially or through prayer. Knowing we have a body of believers coming alongside us helps us know that the Lord will inevitably bless our path. God bless!
He who dwells in the shelter of the Most High will abide in the shadow of the Almighty.
Psalm 91:1
Liam & Julia

You may also give by check, if you like. Please make checks payable to "EquipNet" and make sure you include my account Equip3578 in the Memo Section on the face of your check.
Please mail to: EquipNet, P.O. Box 860 Alamo, CA 94507