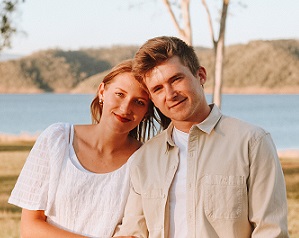 Nathan & Ayden Crory
Hello! We are Nathan and Ayden Crory.
We both serve on staff as full-time missionaries with Youth With a Mission in Brisbane, Australia.
YWAM is a global movement of Christians from many cultures, age groups, and Christian traditions, dedicated to serving Jesus throughout the world. We unite around the common purpose to "Know God, and Make God Known". YWAM began in 1960 as a way to get young people involved in missions, and today we still focus on youth but also involve all age groups. We reach out in 180+ countries through three main areas - Evangelism, Training (the main school being the 6 month discipleship training school) and Mercy Ministry (serving the poor and needy).
Nathan leads one of the creative focused discipleship schools on our campus. Which entails some logistical planning such as organizing schedules, budgets, inviting speakers, local outreaches for the school, and also pastoral care/mentorship of the staff and students. Nathan is passionate about seeing the transformation that God is able to do in people's lives through this school and the power of then releasing these waves of young passionate Jesus lovers back into the world to continue to live a growing relationship with God and to boldly and authentically live out and share the gospel message. In seasons where he is not leading school, Nathan serves in practical ways wherever needed, whether that be helping with property maintenance, mechanics, or the worship team, or going to serve on local outreaches in country towns.
Ayden is currently staffing the Basic Leadership School (BLS) ministry, a team that trains and mentors new leaders in how to partner with God in leadership and to walk in their God given identity and callings. Her role in this is in training, assessing, mentorship + encouraging these young leaders. The vision of the BLS is to produce leaders who will carry a Christ-like influence into every sphere of society. She is also overseeing the prayer team and serves on the worship team on the campus. She is passionate about cultivating a prayer room-space to behold + encounter God and to meditate on scripture. She longs for every mission movement to be driven from that place.
We are so grateful for the work that we have seen the Lord do in and around us these past few years of being on staff in Brisbane. As of right now, we have been enjoying newlywed life, and are looking forward to entering this next season of ministry as a married couple. We would love for you to partner with us in prayer for the schools that we are a part of, as well as encounters with people that have not yet experienced the love of Jesus.
As missionaries, we don't receive any income from YWAM, as our organization has felt specifically led from the Lord that our individual wages for our ministry would come from the support and relationships of individuals and churches. So we also would love to invite you to pray about partnering with us financially. Whether it is $25 a month, or a one-time $100 donation. Anything would greatly help us as we continue to build a life here in Australia as we serve the Lord as full-time missionaries and establish our family in the future.
Thank you for your thoughts and prayers!
Nathan & Ayden
You may also give by check, if you like. Please make checks payable to "EquipNet" and make sure you include my account Equip3069 in the Memo Section on the face of your check.
Please mail to: EquipNet, P.O. Box 860 Alamo, CA 94507