In 1992, we left the Pacific Northwest with our young family to follow a passion from God and moved to Little Rock, Arkansas, beginning a 27-year journey with Cru (formerly Campus Crusade for Christ). The journey continues with a new chapter...
Restoration Project - When it comes to living the man-life God intended, far too many of us find ourselves unprepared, disconnected or just plain tired. We know there is something more, but just can't seem to put our finger on what that more might be or where to find it. Restoration Project is a movement of men determined to live this life to the fullness God designed...
Restoration Project's primary aim is to invite men across the country into deeper and more intentional spaces of fatherhood and brotherhood. We believe when men show up, the world changes and the Kingdom becomes. We believe there are three primary "conditions" that open avenues to a man's heart - experience that leads to story, and story that leads to blessing.
Patrick gives leadership to Restorative Experiences. Through a network of volunteer leaders, he works to provide camping and wilderness experiences for men - and also for their children - to encounter God and enjoy the community of others while learning about God's desire for men as fathers, husbands and brothers.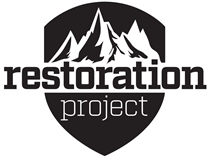 Visit our website to learn more about Restoration Project, https://www.restorationproject.net/.
Jamie is pursuing offering her heart and passions through writing and art in the trauma healing process.