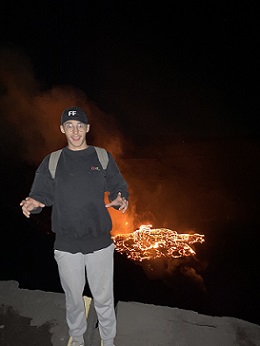 Ryan Lagana
Hello, I'm Ryan Lagana I am a full-time Missionary out of YWAM Kona and YWAM Lakeside Montana.
I have a burning heart to see churches all over the world get reset on fire for the Lord.
After giving my life to the Lord in 2019 I knew that He was the only thing that I wanted to pursue. Pre-salvation, I believed that life was meaningless, but after reading the book Ecclesiastes, the Holy Spirit revealed to me that God puts meaning into the meaningless. After graduating high school, I did Fire & Fragrance YWAM Kona DTS. During my outreach, in Maui and Oahu, I saw wonderous moves of God throughout the 3 months. We worked with different churches around the islands and served on the "Made in Hope" farm in Maui. After my DTS, I committed 9 months to do the "School of Biblical Studies" out of YWAM Kona. In this 9 month school I read and studied the Bible 5 times. With an average of 50 hours of homework a week this was the most challenging and growing season of my life.
Next, I will be doing a third-level school with YWAM Montana called the "Titus Project." While in SBS my heart began to burn for Bible Literacy around the world. There are thousands of churches around the world with very limited access to Biblical resources and training. The goal of the Titus Project is to take all that we learned in SBS and go to the nations and teach it. I will be training for 3 weeks in Lakeside Montana and then will be going to the nations for 2 months and will be speaking in villages and serving at YWAM and United Nations refugee bases.
My long-term goals are to bring revival in America and around the world. Jesus radically changed my life and freed me from addiction, insecurity, and depression and I believe that we were not created to live in slavery under sin, but rather walk in freedom through Jesus Christ. Gen Z has been burning on my heart, because of how hopeless the generation has become. Frat parties are an unreached people group, that is why I will be pursuing college ministry in LA after coming back from outreach.
Would you partner prayerfully and financially with me? Thank you!
Ryan

You may also give by check, if you like. Please make checks payable to "EquipNet" and make sure you include my account Equip3934 in the Memo Section on the face of your check.
Please mail to: EquipNet, P.O. Box 860 Alamo, CA 94507