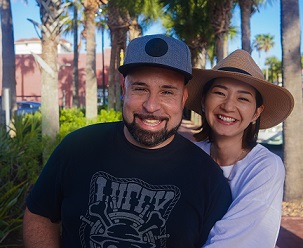 Suro and Ayaka Lopez
Suro and Ayaka currently serve as the Creative Arts Pastors at my Church in Jacksonville, Florida, where they have helped build and train a successful worship team, and production team over the course of the last 5 years. Years ago God called them to minister not just to the Japanese people, but also to the Japanese Christian community as a whole. Now God has called them to return to Japan and begin walking in their calling.
Suro and Ayaka believe God wants to move in Japan in His powerful and unique way. God is a creative God and He created us to be creative for Him. Japan is a land of deep traditions intermixed with cutting edge technology, and so our goal is to help create opportunities for God to be glorified in a uniquely Japanese way: Incorporating Tradition and Technology.
Our vision is to create original Japanese worship music, to encourage and help Japanese worshippers who have a song in their heart to bring that song to life. We want to help provide creative and innovative ideas for churches and worship teams and we aim to create an encouraging and nurturing community of worship leaders, singers and musicians in Japan.
Suro and Ayaka have a God given dream to build a dedicated Recording Studio in Japan that would primarily serve both experienced and new worship songwriters and musicians alike, so that the Japanese Christian community can create more original worship music in their own language, and eventually Suro and Ayaka hope to have a performance facility with a connected coffee house, to make available primarily to churches for services, events, trainings, retreats, and other church activities.
But we can't do all of this without your help! We would love for you to prayerfully consider supporting us as we take on this monumental task that God has put before us! Thank you and may God return the blessing to you tenfold!

You may also give by check, if you like. Please make checks payable to "EquipNet" and make sure you include my account Equip3826 in the Memo Section on the face of your check.
Please mail to: EquipNet, P.O. Box 860 Alamo, CA 94507