We are Todd and Cindy Lemmon, missionaries to Uganda, East Africa, where war and disease have left an estimated 2.6 million children orphaned and many families displaced with little or no resources.
Todd is a nurse and retired police officer suited to care, protect, cure, and heal. Cindy has a background in school administrative support, is an experienced seamstress, and loves to work with children.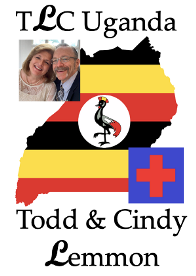 We are building a mission to serve others, maintain their most abundant life, and protect their well-being in a land where impoverished Ugandans cross paths with refugees from nearby D.R. Congo and South Sudan.
Restoration Gateway is a mission poised to do just that, and combines an orphan home with a school, giving Cindy lots to do; but they also recently opened a 180-bed hospital, a place for Nurse Todd to be at home while they both live and share the Gospel to the best of their ability.
Won't you please consider praying for us and extending your financial support as we follow God's example of healing the brokenhearted and bandaging their wounds? (Psalm 147:3)