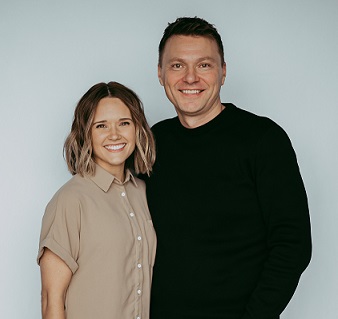 Slavic and Paige Sagach
We are excited to announce that we are planting a church in Elkhart County, Indiana. Over the past 7 years, our family has come to love this community, and we believe that God has called us to partner with Him to bring the Kingdom of Heaven to this area.
We believe the local church is the heartbeat of the Kingdom. We see a church that is built on the following values:

PRAYER: Our heart is to build a church built on prayer (Matthew 21:13). We know that it is through prayer that God's Kingdom is built on this earth. It is in prayer that we stay constantly aware of the presence of God.
PRESENCE: Nothing eternal is ever built or established without the presence of God. We know that we are as dependent on the presence of God as Moses and the Israelites were as they were led and protected by the cloud by day and the fire by night. We will not trust in our own ability or strength but in the Spirit of the Lord to accomplish His will on this earth (Zechariah 4:6).
PEOPLE: To echo the words of Paul in Romans 15:20,21, It is our aim to preach the gospel so that people will see Jesus and understand who He really is. We know that God so loved people that He gave. We want to imitate our Father by doing the same.
We want to invite you to join us as we embark on this new journey. We know that we cannot do this alone. We know that it takes a community to turn a vision into reality. We thank you in advance for investing in the local church and the Kingdom of God.
Blessings,
Slavic and Paige Sagach
You may also give by check, if you like. Please make checks payable to "EquipNet" and make sure you include my account Equip3890 in the Memo Section on the face of your check.
Please mail to: EquipNet, P.O. Box 860 Alamo, CA 94507