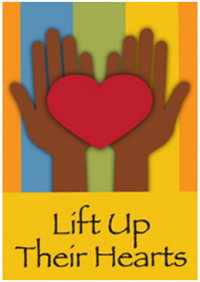 THANK YOU FOR YOUR GENEROUS CONTRIBUTION TO THE GENOCIDE SURVIVORS OF RWANDA!
ABOUT YOUR DONATION:
Lift up Their Hearts has an all-volunteer staff so 100% of your donation goes to the needy in Rwanda. As part of our responsible giving program Lift up Their Hearts will send you our financial records upon your request to liftuptheirhearts@yahoo.com or call Kristina at (952) 446-1469.
DONATING BY MAIL:
If you prefer to donate by mailing your contribution please download the donation form provided or simply provide your name and address with your donation and send it to us at:
Lift up Their Hearts
P.O. Box 101
St. Bonifacius, MN 55375
YOUR SECURITY AND PRIVACY ARE IMPORTANT TO US:
We guarantee all information received electronically or through the mail will not be shared with any third party, business or charitable organization. Our online giving mechanism is reliable and secure. All payment information transmitted with this form is encrypted.
YOUR RECEIPT:
Your donation to Lift up Their Hearts is tax deductible. If you are giving electronically you will receive a receipt at the end of your transaction. Donations received by mail will be sent a receipt.
WE NOW OFFER ELECTRONIC MONTHLY, QUARTERLY OR YEARLY RECURRING DONATIONS:
Recurring donations save us money by allowing us to decrease our advertising campaigns and budget more effectively. Thank you for considering this option.
If you have any questions regarding your online donation, please contact Kristina directly at (952) 446-1469 or e-mail us at liftuptheirhearts@yahoo.com
---