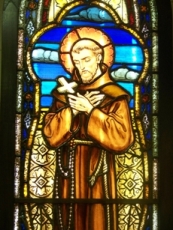 ST. FRANCIS OF ASSISI ROMAN CATHOLIC CHURCH
Growing in faith, building the future!
Automated Electronic Giving - Offertory
Whether you would like to schedule ongoing donations, or give a single gift, you can do it all online. It is quick, easy, and secure. With our new, and enhanced, service you can give by using your checking account, debit or credit card, whichever is most convenient for you. This is a safe and flexible option which is one of the easiest ways to give to Saint Francis of Assisi Roman Catholic Church for the offertory.
A record of each gift will appear on your monthly bank or credit/debit card statement. All electronic giving will be recorded and will be included in your end of year contribution letter. Thank you for your support.
If you have any questions regarding your online donation, please contact us directly at (303) 772-6322 or e-mail us at louise@sfassisi.org.