---
Support TBS Today!
The Burlington School relies on the philanthropic support from its vibrant community of alumni, parents, grandparents and friends to fund all aspects of a TBS education. Your tax-deductible donation to TBS each and every year helps support our outstanding faculty and educational programs both in and out of the classroom. Every gift makes a difference!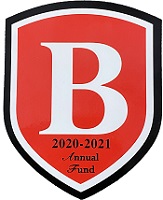 Patrons giving at least $25 will receive the Shield magnet and those giving at least $125 will receive our new pennant magnet (both photos provided above).
If you have any questions regarding your online donation, please contact us directly at (336) 228-0296 or e-mail us at mqualls@theburlingtonschool.org.